Hidden away down a quiet street in Clerkenwell is a fabulous little shop, bursting with creativity. Quill London is a stationery lover's paradise, selling pretty paper, inks and office supplies. Catering to the recent trend for creating swirly, decorative lettering, Quill also hold a range of modern calligraphy workshops at their London studio.
Photo from Fabulous Places
Calligraphy is something my Grandpa loved doing and tried his hardest to get me interested in when I was much younger. I don't think my enthusiasm lasted long but I've recently experienced a creative lull and something about the re-branded 'modern' calligraphy made me nostalgic and sparked my interest. I began following some calligraphers on Instagram and got really inspired, but doing some initial research in to the craft, it seemed like an expensive hobby to just pick up before being sure if a) you would enjoy it and b) you'd be any good at it!
When I came across Quill, I immediately signed up for alerts when new class dates became available, as I thought their beginners' workshops sounded like the perfect solution for mastering the basics without making a huge commitment. After a few months of missing out (their new dates sell out
fast
!), I finally secured a place on their 'Brush Calligraphy' class.
An Introduction to Brush Calligraphy
The class was 2 and a half hours long for £60, which I thought was great value, and there were no more than 10 people. We covered the basics of brush calligraphy in easy steps, using brush and ink as well as professional brush pens. You start by practicing lines and shapes, followed by letters and then moving on to words and finishing up with composition, producing a final piece.
Lettering practice
Our teacher was really friendly and approachable, and always on hand to give advice or sketch out something you're not sure about which made the class far more rewarding.
As part of the price, I also got to take home the brush, a new pot of ink and some practice paper in a nice branded envelope folder. I've not had a chance to do any further practice yet but it's nice to know I have the option to just pick it up and carry on without having to purchase any more materials.
My finished piece
If you're interested in picking up this fun craft, it's so worth finding a class near you or, the second best thing, buying a book. Quill are about to publish
this step-by-step guide to modern calligraphy
by their founder, Lucy Edmonds. It's already on my Amazon wishlist and comes out on 1st June for just £12.99. It sounds like the perfect gift for someone creative or for yourself if you're looking for something new to get in to. You can sign up for classes at Quill
here
.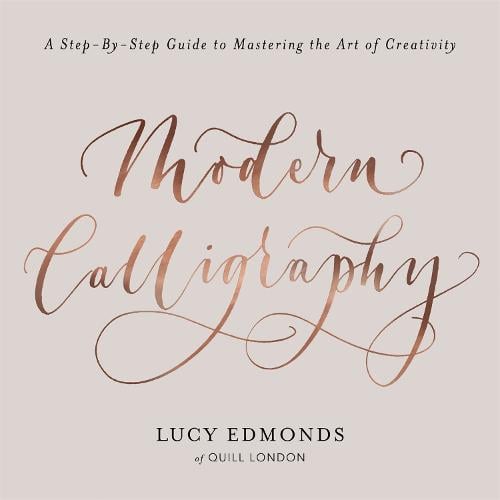 Image from Amazon
For more inspiration and great tips, these Instagram accounts are some of my favourites:
@thepostmansknock
@lettersbyshells
@thegraytergood
@cre8tivesun
@gladysstories
Has anyone else tried modern calligraphy or visited Quill? What are your experiences? I can't wait to get practicing again...
Follow my blog with Bloglovin