I am so lucky to be posting my second travel blog in such a short space of time (though my
NY post
was 4 months delayed)! I recently got back from a short break in the land of pizza, pasta and ice cream and had to share my highlights. Here's my guide to 4 days in Rome...
The Basics
Location:
capital city of Italy
Timezone:
Central European Time Zone (1 hour ahead of UK)
Vibe:
cosmopolitan city with a fascinating mix of ultra modern and ultra ancient and lots to see, do and eat - great for a long weekend
Language:
Italian, but most shopkeepers, restaurateurs, etc speak very good English
Currency:
Euros
Weather:
warm, balmy days in the
summ
er/autumn, cooler and rainy in the winter/spring - we enjoyed 23 degrees Celsius and sunshine for our 4 days in April
Travel:
Rome is small enough that you can walk between sights without it taking too long (and trust me you won't want to miss anything!) though it is also well connected by buses and metros. Expect to pay around
€
45 to
€
60 for a taxi from Ciampino airport to the city centre.
Piazza Navona
Hotel
We stayed at a gorgeous B&B called
Tree Charme Navona
. It was perfectly located for all the sights we wanted to visit, with many great restaurants and bars on the doorstep.
It was in a lovely old building and decorated so tastefully to make the most features like the very old (and slightly scary) vintage style lift and the gorgeous big windows. Our room was a good size, very clean and felt quite luxurious considering the decent price we paid.
As well as delightful small team of staff (I think it might be a family run business), the highlight was the breakfast included in the price, laid on in a pretty cafe-style communal area.
We paid
€
528 for 2 people staying 3 nights, including breakfast which is very reasonable for the location. I'd highly recommend if you are considering visiting Rome.
Photo from Booking.com
Photo from Booking.com
Photo from Booking.com
Things to Do
I'm sharing how we spent our time for 4 days in Rome (arriving early on day 1 and leaving late on day 4) so you can mix and match this or shuffle it around to fit in with your flights/other plans. Enjoy!
Piazza Navona
Fontana dei Quattra Fiumi (Fountain of the Four Rivers)
Throw yourself straight in to the hustle and bustle of the eternal city and visit Piazza Navona, a busy square with amazing fountains and colourful street performers - the perfect place to sip on an Aperol spritz and people watch!
The Pantheon
The Pantheon
A former Roman temple, now a church, the Pantheon is the most preserved building of ancient Rome and a must-see on your trip. Its imposing columns and unique domed ceiling will leave you speechless.
The Colosseum and Roman Forum
Inside the Colosseum
Tempio di Saturno (Temple of Saturn)
Casa delle Vestali (House of Vestals)
This was by far my favourite thing we did on the trip. Book with
Walks of Italy
for an amazing tour of the Colosseum, Palatine Hill and Roman Forum and enjoy 3 hours getting lost in history. It was worth every single penny getting to stand where the gladiators fought, see the 'lasagna' layers of ancient ruins and getting a snapshot of what life was like at the peak of the Roman Empire.
The Vatican
St Peter's Square (Image from Wikipedia)
The one thing I regret that we didn't do was visit the Vatican and its museums. We made the fatal mistake of not booking ahead so we arrived to crazy long queues and seas of pushy tour reps. We decided we'd leave it at taking a few photos from the outside but it's definitely something I'd go back for. The Vatican is a sovereign city-state with a population of less than 1000, home to a wealth of well known art and home to the Pope.
Spanish Steps
Spanish Steps
The Spanish Steps are an iconic location in Rome, featuring in many films including Roman Holiday and The Talented Mr Ripley. They're surrounded by designer boutiques so a great place to window shop and appreciate the architecture! We found the most incredible cannoli here too which I can highly recommend.
The Trevi Fountain
Trevi Fountain
Designed in the 1700s, this colossal fountain is at the top of the list for things to see in Rome. Traditionally, tourists throw a coin in to it in the belief that this will ensure they return to the city again in their lifetime. Of course, I did this and of course, I missed. How?! When we arrived at the fountain, it had been drained and I was so disappointed. It's still seriously impressive but the experience wasn't quite complete. However, as luck would have it, we also got to see it switched back on again and fill up in front of our eyes which was pretty magical (disclaimer: can not guarantee this added bonus on your trip).
Villa Borghese Gardens
One of the many beautiful structures hidden away in Villa Borghese Gardens
Villa Borghese Gardens is one of the largest parks in Rome and it was the perfect place to while away a few hours on our last day in the glorious sunshine. The park is home to many historical buildings, secret gardens, museums, a zoo, a boating lake, cafes and restaurants. If you approach from Viale della Trinita dei Monti (East side), you get the most stunning view across the entire city - well worth the climb to the top.
Food
Listed below are my food highlights from our trip. I am a big TripAdvisor advocate and would always recommend looking on there for restaurant ideas. The only thing I would say is I'm not sure how likely you are to get the best 'authentic' Italian restaurants and not just the ones that other tourists have tried.
That's Amore - great service, even greater food - very near the Trevi Fountain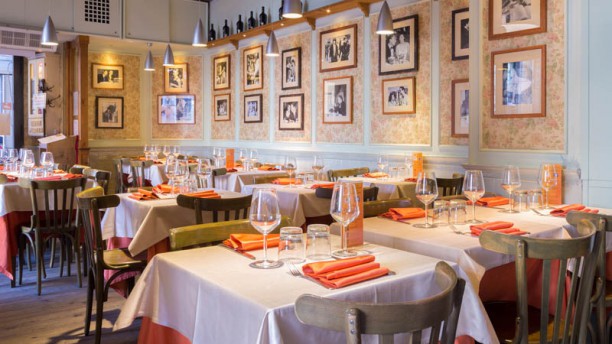 That's Amore (Image from The Fork)
Miscele e Fuoco - stylish restaurant, good for lunch - close to the Colosseum
Miscele e Fuoco (Image from Via dei Gourmet)
Vale - amazing gelato, the coconut flavour was to die for - we went here every day
Coconut and Mango Gelato with a macaron!!
Mimi e Coco - gorgeous wine bar with impressive selection of vodka (!) and scrummy food - near to Piazza Navona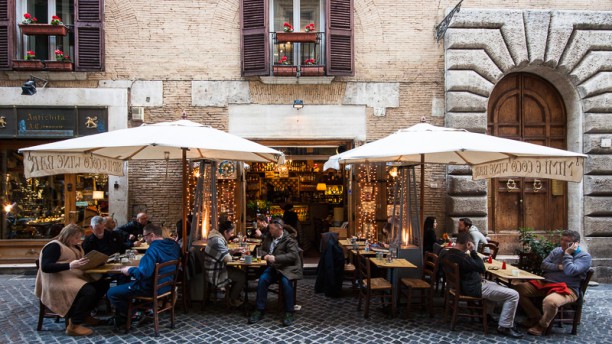 Mimi e Coco (Image from The Fork)
Pistaccio Cannoli
Tadadatta' - located in the lively Trastevere area, this place was a hidden gem with a small but tempting menu and lovely staff
Tadadatta' (Image from TripAdvisor)
Casina Valadier - the perfect place for a special occasion meal, we saved our pennies up for a big blowout meal here on our last day (we had burgers because they were the cheapest thing on the menu but they were so good) - located on the edge of Villa Borghese Gardens
Burgers at Casina Valadier
Had to post a second photo of the dreamy Casina Valadier (Image from The Culture Trip)
I hope you've loved reading this. I really struggle to write concisely when it comes to something I enjoyed and want to tell everyone about. Have you ever been to Rome, or are you thinking of going? I'd love to hear about your experiences. Leave a comment below!
Until next trip...
Follow my blog with Bloglovin