For the last few years, since a spontaneous solo trip to Morocco, I've been hooked on travelling. I'm not one of those who can go on a 2 week all-inclusive beach holiday and just bake in the sun for hours on end - I have to be exploring new places, trying new food and getting out and about.
Last summer I went on a trip which was the perfect balance of culture, fun and relaxation. Sail Croatia run a range of island-hopping cruises in Croatia, catering for 18-35s, young professionals and couples, 'luxury' travellers and the more active explorer.

In June 2016, I went on one of their 'Navigator' cruises sailing from Split to Dubrovnik, aimed at under 35s. It's not your typical 18-30s holiday though. Although the option is there to go out most nights and enjoy Croatia's nightlife, you are only in each place for a few hours, so you don't want to overdo it and spend the majority of the next day nursing a hangover as there is so much to explore!
Itinerary
Every day went a little something like this:
Wake up and have breakfast
Relax and sunbathe/activity
Sail to next location
Stop for lunch and a swim stop
Arrive at next location
Explore/activity
Dinner
Go out/boat party
Activities
The activities vary week to week and depending on which cruise you are on but I did a wine tasting and white water rafting. You could also do walking tours, zip lining, kayaking and hiking. Each activity did cost extra to the holiday itself but if you're on a budget, there are so many stunning places to explore at your own pace and for free...
Locations
Split - this is where it all starts. You make your own way there and meet the rest of your group when the boat leaves at 1pm and you sail to your 2nd destination...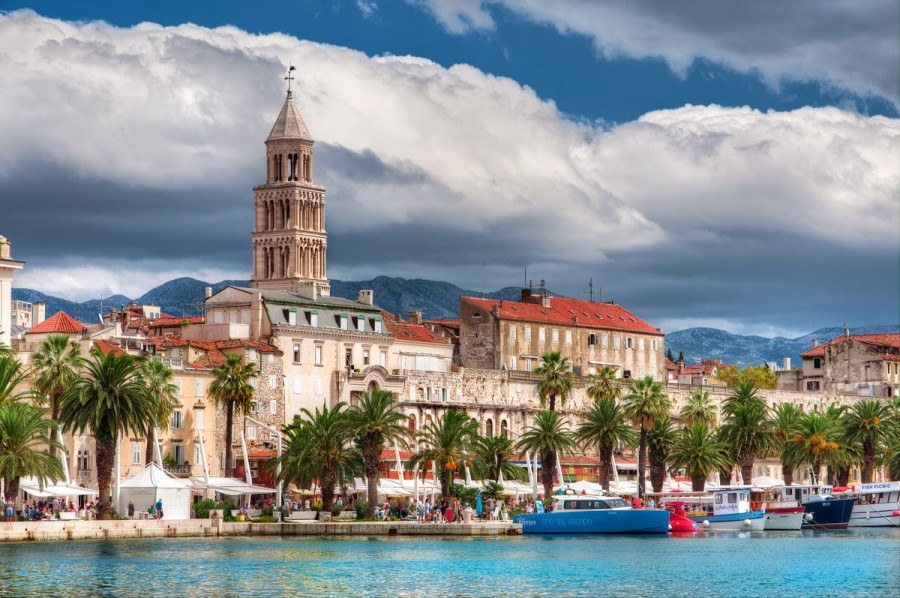 Split (image from Chasing the Donkey)
Omis - you spend your first night in this tiny town, where the Cetina river meets the sea. We had a party on the boat to get to know everyone (plus, there's not much of a social scene in Omis). The next morning there is an option for a hike up the mountain in the photo below. Needless to say, I didn't do this, but we did go white water rafting, which was so much fun (and a lot of hard work)!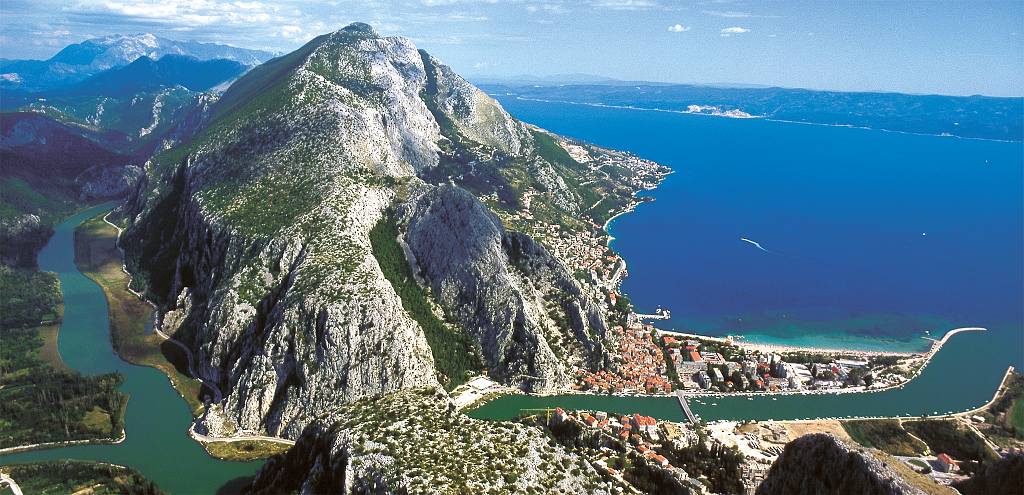 Omis (image from mosor-omis.com)
Omis
Makarska
With a lovely swim stop on the way, you sail to Makarska. After a couple of hours to mooch around the markets, there is the famous pirate party where you all dress up and head to 'Deep', a club in a huge natural cave - one of the nightlife highlights of the trip.
Deep, Makarska (Image from TripAdvisor)
Stari Grad
- this was my favourite place on the whole trip. Stari Grad is the oldest town in Croatia, on the northern side of the island of Hvar and is just stunning. Here, you have the option to visit the UNESCO protected Stari Grad Plain and sample some amazing wines, cheese, olives, meats and bread - all made on site. Bonus - you get to cuddle cute donkeys too!
Wine tasting at Stari Grad
Donkeys at Stari Grad Plain
Hvar
- one of the party capitals of Croatia and the next stop on the trip. My highlights included walking up to the 7th century fort ruins for a stunning view of the town below, eating the best tuna steak I've ever had at Marinero restaurant and partying at Nautica bar. There is also a nightclub on a tiny island just a few minutes' water taxi away from the harbour but it didn't even open until 2am, by which time I'm pretty sure most of our boat was tucked up in bed!
Approaching Hvar town
Tuna steak at Marinero in Hvar
Korcula
- probably my least favourite spot on the trip, although this might have been because we were all so tired from the nights before. It looks gorgeous in photos (see below) and I'm sure there's plenty to do there (some of our group went kayaking), but we spent the whole day sunbathing and chilling together on the boat. We also all went to a horrendous restaurant for dinner so I guess my memories of this day are just marred by that!
Korcula (Image from Thomson)
Mljet
- My second favourite place on the trip! Covered in forest and miles away from anything touristy, Mljet is one of the most beautiful islands in the Adriatic. We moored up here in the afternoon and were free to explore the stunning National Park on foot or by bike. That evening, I experienced the most incredible thunder storm I've ever seen and the lightning was hitting the sea, so close to our boat. It was definitely the most memorable evening!

Mljet National Park (Image from mljet.hr)
Dubrovnik - the last stop and definitely the most well-known, largely thanks to it being the location of many scenes in Game of Thrones. Once referred to as 'heaven on earth', there is so much to do and look at here - join a walking tour, explore the city from above and climb its almost 2,000 metre long walls or hit the beach. You spend most of Friday here and then, as long as you have left the boat by midday the next day, you're free to spend as long as you want here, go home or move on elsewhere in Europe like many of my group did.
View from Dubrovnik old town walls
The boats and crew
Yep, if you haven't realised by now, you live on a boat for the week. And I'm not talking about a nice big luxury cruise ship. I mean tiny cabins with bunk beds. If you can't pack light, this trip ain't for you...seriously, the rooms are small. There are options for en-suite or shared bathroom but I would 100% recommend having your own bathroom, especially if you get seasick!

The boats are basic but functional and provide all you need for the week. The crew on our boat were so friendly and helpful and if you needed anything, they could sort it out at the next place you moored up. Our Sail Croatia rep, Janice, was the best. She even stayed up digging sea urchin stings out of people's feet, when they'd ignore her direct advice not to jump in the sea! Your rep will tell you what's happening at the beginning of every day and let you know how to sign up for activities and give recommendations for places to eat etc. They do this week in, week out, and some of them have been doing it for years, so they're pretty much locals.

It's a great way to meet like-minded travellers and the way the trip is run encourages the boat to socialise together. You also moor up in the evenings alongside other boats and trips run by other companies including TopDeck and BusAbout, though this does sometimes lead to people waking up on the wrong boat!

The food on the boats was really great, although we ate A LOT of bread - not so good when you're living in a bikini for a week! You weren't allowed to take food/drink on the boat that you'd bought elsewhere but I thought that was fair enough and the on-board bar was fully stocked and pretty cheap.
Prices
You can book a navigator cruise from £299 (excl. flights) but the final price depends on when you go and whether you pick en-suite or shared bathroom. I went the first week of June and had an en-suite, which came to £479.
The price you pay to Sail Croatia includes your room and 2 meals a day (breakfast and lunch). On top of this, you need to pay for flights, your evening meals, drinks and any activities you choose to do. The crew keep a tab of your drinks throughout the week that you pay before you leave, and any activities you pay for in cash at the time.
Croatia itself is pretty cheap. I think we probably paid the equivalent of £10-£15 for our evening meals, including a glass of wine - definitely no more than £20. I can imagine this may not stay the case for long as Croatia seems to be becoming the place to go on holiday. Make sure you get there soon!
Is it worth it?
Oh yes. I can't recommend this trip enough - it was probably one of the best weeks of my life. Some people say you don't get to see much of the country as you're on the boat a lot, but I'd say it was much better than staying in one place for a week. You get to see so many beautiful places. I often feel that I've 'done' a place once I've spent a week there but I would definitely go back to Croatia.
If you're not a party person, you should
check out all the different routes and types of boat on offer.
There will certainly be an option for everyone and you'd be seriously missing out if you don't go.
*****
Have you been to Croatia? I love organised trips like this and would love recommendations of others I might enjoy. Let me know in the comments :)
Happy travels!
H x